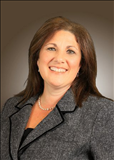 Originally from Brooklyn and Staten Island, I moved to Rockland County in 1996. I now reside in Congers with my husband and three children. I am a graduate of Pace University with a Bachelor of Science Degree in Management Information Systems, launching my career as a computer programmer for a major bank and then a well respected brokerage house. My experience as a programmer and general computer knowledge has been a great asset throughout my Real Estate Career.

My love for Real Estate began initially when my husband and I built our first home in Staten Island. Rockland County became our second destination. I was introduced to Rosemarie Pelatti of New Line Realty, became a client, and again had our home built. I was even more in love with the Real Estate process the second time around. I obtained my NY Associate Salesperson license before we moved here in 1996 and started my career. After a few years, I became the Vice President of New Line Realty and also the New Construction Sales Manager. I later obtained my Associate Brokers License and have consistently been a multi-million dollar producer.

In 2007, my business partner, Rosemarie Pelatti, and I purchased the Keller Williams Franchise in Rockland County. Together we have grown the company to include over 130 agents and staff. Our main office is located at 18 Laurel Road in New City, NY. Shortly after, we opened our state- of-the-art Technology and Training Center located at 340 S. Main Street, New City, NY. Subsequently, we have locations at 21 E. Central Avenue in Pearl River, NY and 148 Route 9W in Stony Point, NY.

I currently hold my NY Real Estate Broker License and NJ Broker Salesperson License. My areas of expertise are Rockland, Westchester and Orange Counties in New York, and Bergen County in New Jersey.

I am fortunate to have teamed up with a company that shares the same beliefs as I do. Under the Keller Williams umbrella we have been able to give back to the community by supporting local and national foundations, and local residents in need of our help and support by raising thousands of dollars.

I use my knowledge and skills obtained throughout the years along with my powerful marketing programs featuring the latest cutting-edge technologies, market research, and business strategies. My Goals are to sell your home for the most money in the least amount of time and, not only meet your expectations, but to exceed them.